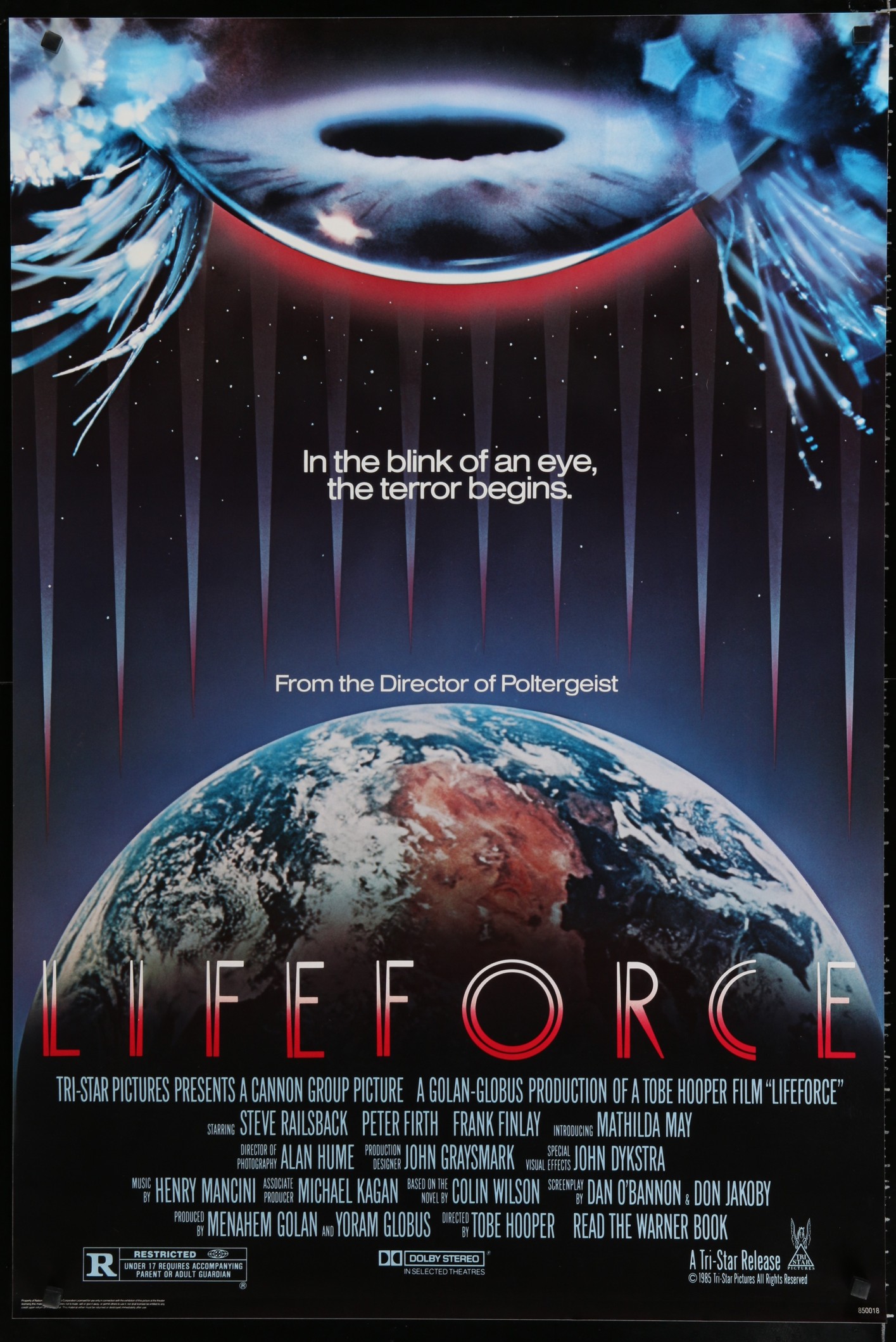 Lifeforce
Released: 1985
Directed by: Tobe Hooper
Written by: Dan O' Bannon and Don Jakoby
Starring: Steve Railsback; Peter Firth; Aubrey Morris; Mathilda May; Patrick Stewart
After  Poltergeist  was released to critical and box office success in 1982, director Tobe Hooper was a hot commodity.*  Having already established himself as a genre master with his debut film The Texas Chainsaw Massacre,  the twisted backwoods horror Eaten Alive   (which featured an early appearance by a very young Robert Englund), a superb television miniseries adaptation of Stephen King's Salem's Lot and the underappreciated (and unnervingly creepy) classic The Funhouse, his collaboration with Steven Spielberg seemed to set Hooper on a much deserved and long overdue transition into the mainstream spotlight.  Continue Reading
October 2, 2018 | Categories: Horror, Movies, Reviews | Tags: blogging, DS Ullery, film, Fright Fest, Fright Fest 2018, guest contributor, Horror, Movies, reads, Reviews, science fiction, space | 6 Comments
---
Greetings folks! Ladies and gentlemen. Boys and girls. As we begin this new year it is my great pleasure to announce the start of a brand new "In Review" series. Creature Features…beloved by many, loathed by some, irrefutable masterpieces that tell a tale of where the world is during each era of release. From the nuclear wastelands of Hiroshima in Godzilla and the radiated test sights in Them! to the hideous shadows in swamps and space fiends coming to terrorize quiet small town America in Critters and Swamp Thing to the worlds of mad science and mythology to humanoids and mutations, Creature Feature films have been at every turn in pop culture. Spanning decades, here at Machine Mean, thanks to our mob of talented and twisted guest writers, will bring to you beginning this Thursday and running until December, on every Thursday a Creature Feature in Review. Set your clocks and mark your calendars.
The fun begins this Thursday on Jan 5, 2017.
Follow the series on Twitter at #MonsterThursday
January 3, 2017 | Categories: Horror, Movies, Reviews | Tags: 1950's, 1960's, 1970's, 1980's, 1990's, 2000's, 2010's, Aliens, amwriting, atomic, Atomic Age, atoms, blog, creature features, creatures, critic, culture, fiction, film, films, from space, Godzilla, History, horror movies, invasion, mad science, monsters, movie history, movie reviews, Movies, mutations, non-fiction, pop culture, popculture, review, Reviews, science fiction, science fiction movies, si fi movies, space, writing | Leave a comment
---
[WARNING: EXTREME DIGRESSIONS, LATERAL ASSOCIATIONS, AND UNSOLICITED MUSINGS FOLLOW] To start, a confession—as much as I enjoy Italian horror (and horror in general), I'm not sure if I'd ever seen one of Mario Bava's films in its entirety [preemptive update: since choosing this film for review and watching it through a couple times, I coincidentally had the pleasure of finally watching Blood and Black Lace at a good friend's birthday movie party]. I'd seen a few of his son Lamberto's, but looking over the Elder Bava's filmography I couldn't honestly say I could attach a title listed to a film I could clearly remember. My early days of watching Giallo and other types of Italian horror coincided with attending art/film school in San Francisco, so you'll have to forgive my own uncertainty—as I wasn't always completely sober while viewing a great deal of the offerings from "Le Video" and other VHS-lined halls of magical filmic goodness. I'm much clearer on the Argento, Soavi, and Fulci (my personal favorite) films I devoured at the time, but there were others that, for whatever reason, remain a vague blur.
So, why did I choose this film of all films? Second confession—if you know me this won't come as too big a shock, but I'm borderline obsessive about the Alien film franchise. It is taking a considerable effort to not expand upon that statement with the finer distinctions I make between the different film entries, EU comics, novels, games, etc. and their varying levels of individual quality. You're welcome (just trust me… you're welcome). Simple version—I like Alien-related things that are good.
Okay, I'll just cut to it—I chose Planet of the Vampires for review because Nicolas Winding Refn (Pusher, Bronson, Valhalla Rising, Drive) said this recently while introducing a new 4k print of Planet at Cannes as a "Cannes Classic":
"Planet of the Vampires" is the film that Ridley Scott and Dan O'Bannon stole from to make 'Alien.' We found the elements, we have the evidence tonight. This is the origin!"
Could it be that a film I hold so close to my heart could have pilfered from another film openly, or at least been heavily influenced? I was torn by this… so this review will be a bit torn. I'm going to abandon the regular review what-I-liked/didn't-like format I would do and try something different. I ended up watching the film twice, with two mindsets—first, looking for connections to Alien. Then, as its own film (which would've been impossible for me the first time, feverishly Alien-crazed as my feeble mind tends to be).
And so…
PLANET OF THE VAMPIRES AS POSSIBLE ALIEN INSPIRATION/SOURCE MATERIAL:
I'd heard in the past that Alien strongly resembled another film, It! The Terror From Beyond Space, but still haven't watched that due to stumbling onto some images of the creature in the film—it… didn't do much for me. That's unfair, I know, but it's hard when you've been spoiled (and scarred) by the diseased mind of a brilliant Swiss dark surrealist like Giger. Planet of the Vampires intrigued me for different reasons.
The Wikipedia article for Planet's "Influence" page states that Ridley Scott (director of Alien) and Dan O'Bannon (main writer of Alien; co-written with Ronald Shusett, then revised heavily by Walter Hill and David Giler before being rolled back some), had stated they'd never seen Planet before making Alien. From what I know of Scott, that wouldn't surprise me. After some snooping, though, I discovered some different things about O'Bannon's history with it.
O'Bannon is quoted as saying he was 'aware' of Planet but didn't feel like he'd ever watched all of it. He also says that he thought about Forbidden Planet (a classic I'm more familiar with) way more than It! while writing Alien. His approach seemed to be to make the ultimate scary-monster-on-a-ship movie, pulling from a lifetime of Sci-Fi film watching—something crystallized in this quote: "I didn't steal from anybody—I stole from everybody!"
So, where does this Planet/Alien comparison—that I've now stumbled onto many times while researching this review—come from?
Planet of the Vampires starts with two ships (Argos and Galliot) in space near a planet. They discuss a signal they've been monitoring from an unknown origin somewhere down on the surface. A powerful force grabs their ships and exerts an incredible force on them, pulling them down into the planet's atmosphere. They are set down in a strangely gentle fashion after such powerful artificial force. Upon touching down all but the captain of the Argos go mad, immediately attacking him and each other. He's able to smack sense into most of them, and then he and a crew member chase the still-crazed doctor out onto the spooky planet surface. After he is released from whatever mysterious power had hold of him, the captain sends him back inside.
So far we have a mysterious planet (large moon in Alien, but close enough), a signal of unknown origin, and a rocky, dark planet surface. Okay, I see that. This is followed by a dangerous trip across the spooky, dark planet's surface to investigate the fate of the Galliott. The Galliott's crew are mostly dead, with a few missing.
There's a decent chunk here with nothing comparable, then they find a third ship near the Argos while doing a survey, and a few of them go to investigate. So we also have space-suited ship crew investigating a planet's surface, only to find a… "alien" ship. Not only that but the remains of said alien crew are skeletons of humanoids of great size—possibly up to three times that of an average human.
I see where this is going… These basic elements (and that they later take off, with malicious stowaways aboard) are similar between the two films, and from what I've come across the imagery of the skeletal alien crew is one of the strongest "gotcha!" things for those who feel Alien was directly influenced by Planet, due to the similarity to the former film's "Space Jockey"/ "Pilot" scene.
But Planet was not the only film about a crew touching down on a spooky planet, finding weird things, and leaving with something that wasn't exactly pleasant in their ship. Other than It! The Terror From Beyond Space, the director of another Sci-Fi movie called Queen of Blood, Curtis Harrington, is quoted as saying he felt the makers of Alien most likely had been heavily inspired by his film—due to it also having that same rough barebones plot. I'm no expert, but I'm sure there are at least a few other Sci-Fi films from before Alien's late 1970s writing and production that could be boiled down to the same basic structure.
Also, It! The Terror From Beyond Space is the closer film to the follow-through of Alien by default—Planet doesn't have what you would call a "creature" per se. There is a zombie- or revenant-like reanimation and possession that takes place, followed by more insidious mimicry of human behavior. I'd go so far as to say Planet's last act more closely resembles John Carpenter's The Thing in its emphasis on paranoia and mimics trying to use their human hosts' technology to their advantage—that is if The Thing was also missing its well-loved practical creature effects. Giger's nightmarish creations were undoubtedly a huge part of Alien's power and success as a film. There is nothing like that in Planet of the Vampires.
To sum up my thoughts, I feel like it's a little unfair to say Alien stole from anyone Sci-Fi film—it appears to have been more of a loving potpourri of elements from many earlier Sci-Fi films with attempts of their own at claustrophobia and scares. The setup of Alien is not its greatest strength and is its least original aspect. Thankfully, it more than makes up for that in the realms of atmosphere, design, special effects, acting, genuine fear, and well-earned and -executed scares.
Valaquen at Strange Shapes, a favorite blog of mine as an Alien series fan, puts it best I feel with this line: "The story of the Nostromo could easily be that of the Demeter, the ship that Dracula stowed upon on his way to London."
It's not the bare-bones plot, but what they did with it that made Alien groundbreaking and frightening.
Whereas the legacy of Planet of the Vampires is cheapened by it being treated as a footnote in the history of Alien. I honestly wish I'd heard of it in a different context. Which leads me to…
PLANET OF THE VAMPIRES AS A FILM ON ITS OWN TERMS:
As stated above, the film begins with two ships in space. Well, it starts with a title sequence with some pleasant spacy shots. Then, we see the two ships. Right off the bat, it's clear we're in for a B-movie affair of some kind, as the model work for the ships and space background is done well enough, but leaning toward cheap and a bit cheesy. This isn't a strike against the film coming from me, for the record. A shot focused on a bright section of one ship model dissolves into a shot of space out through a circular ship bridge area, the camera tilting down to show more examples of what I've learned Bava was known for—getting the most out of low-budget production values. Large banks of glowing, pulsing readouts and other kinds of equipment are seemingly lit in such way as to make it less clear how much empty space the set actually has. This could also have been a stylistic choice, but I have a feeling I'm not entirely wrong either way.
Then we are treated to one of my favorite things about this film—the costuming. The crew spacesuits are dark, form-fitting, and sleek, with bright orange trim. One has to imagine that—and this is really the last Alien-ish part, I swear—whether or not Ridley Scott had ever seen Planet before making Alien, he's seen it since, and wanted to either poke some fun at that or make a genuine homage.
My only complaint is they only wear their snazzy bright yellow helmets in the scene I mentioned earlier where the captain and a crewman chase the doctor out onto the planet surface after they touch down. They make great paperweights for the rest of the film, sitting on flat surfaces all over the Argos and Galliot just looking cool and not helping the space adventurers breathe safely.
The sets are also really well done. The interiors are deliberately minimal and have glowing and blinking machines placed strategically. But where the sets really impress is the exterior planet shots. A thick ankle-deep fog blankets the planet surface, swirling around at every step that breaks it. Rocky outcroppings, spires, and crags on the planet surface look suitably natural and menacing. Lava patches are well-executed with superimposition and matting.  The ships' implied sizes are reinforced by landing supports and airlock set constructions. The airlock hatch mechanics are smooth and believable. There's a weight to their use that feels right as if they're part of a large vessel and not a cheap suggestion of one.
Also, the use of the different sets and camera tricks gives the planet a good sense of size. They have to travel good distances between ships and don't just jump around through editing.
Photographic effects bring the sets together and make the planet surface feel dangerous and foreboding, and this otherworldly feel is consistent. Optical printer post-production slo-mo is used to give the rising of a few dead Galliott crew members a strange and menacing feel.
The atmosphere, in general, is fantastic. The planet is mysterious and spooky, even before they find the remnants of the alien presence. The open interiors of the ships go from comforting chambers of safety to increasingly empty areas hiding possible terrors around every corner.
A lot of the heavy lifting for the atmosphere is the lighting. Having now seen Blood and Black Lace since deciding on Planet for this review, I can definitely express with confidence that Bava's lighting is my favorite thing about his films (so far; I have much more to watch). Those two films have different cinematographers, but Bava seemed to have a strong enough sense of light and color that it was dictated at a directorial level. His bold, almost garish color choices are toned down some in Planet, going for darker, cooler colors than the bold reds and violets he plays off the darkness in Blood. There is some of that in Planet, though, when the reluctant planet explorers are traversing the surface and having to climb over and around lava flows.
He also uses a nice trick, backlighting the rocky set pieces from a distance, suggesting either light poking in through the thick atmosphere or unseen moons or other celestial bodies throwing light from afar. But the surface areas are dark, mostly lit up by lava or eerie, dim fill lighting. These two things contrast nicely.
The performances are pretty good too. According to Wikipedia (don't hate), Barry Sullivan was the only actor speaking English, Norma Bengell (a Brazilian) spoke Portuguese, and the rest of the international cast spoke their own languages—not understanding each other as they performed.
I knew that most of the voices were dubbed, but wouldn't have guessed they were so disconnected. They all perform well together. There are some "scream queen" worthy moments and some pleasantly hammy, scenery-chewing moments (unintentionally amplified by the dubbing, I'd say).
There's even a twist ending. I won't spoil the specifics, but whether you end up unsure if it was tacked on or not (as I still am), it gives the whole thing a Twilight Zone or Outer Limits outro feel.
CONCLUSION
As I expressed above in detail, I doubt this film was a huge influence on Alien directly. On its own merits, I really enjoyed it. It's a straight-faced sci-fi/horror piece with great use of budget and plenty entertainment value. Or as the original trailer dubs it…
I'll give Planet of the Vampires…………….7/10.
PATRICK LOVELAND writes screenplays, novels, and short stories. By day, he works at a state college in Southern California, where he lives with his wife and young daughter. His stories have appeared in anthologies published by April Moon Books, Bold Venture Press, The Sirens Call Ezine by Sirens Call Publications, and the award-winning Crime Factory zine. Patrick Loveland's first novel, A TEAR IN THE VEIL, will be published in early 2017 by April Moon Books.  Twitter: https://twitter.com/pmloveland   Facebook: https://www.facebook.com/pmloveland/   Amazon: http://www.amazon.com/-/e/B00S78LF9M Blog [under construction]: https://patrickloveland.wordpress.com/
And as always, if you enjoyed what you've read here on Machine Mean, please subscribe to our mailing list by clicking on the FREE BOOK image below where you will not only receive updates on articles  and new book releases, but also a free anthology of dark fiction.
October 25, 2016 | Categories: Horror, Reviews | Tags: 1965, Alien, Aliens, Barry Sullivan, color, Evi Marandi, film, Fright Fest, fright fest 2016, Guest author, Halloween, Halloween Movie Marathon, Horror, horror reviews, Mario Bava, movie reviews, Norma Bengell, Patrick Loveland, Planet of the Vampires, Reviews, sci fi, science fiction, science fiction fantasy, space | 2 Comments
---