American Psycho is a satirical novel written by Bret Easton Ellis and published in 1991. It is an unreliable first person narrative, in the present tense, given by the main character, Patrick Bateman, who is a yuppieliving in 1980s New York City. It is an extremely controversial novel, given its depiction of increasingly brutal violence against women; this issue led many feminists to protest the novel.
A movie version was made in 2000, the screenplay written by Guinevere Turner and Mary Harron (the latter also being the director), and starring Christian Bale in the lead role. The movie removed or mitigated the novel's violence, and rearranged much of the material: apart from that, the film was reasonably faithful.  Continue Reading
February 6, 2018 | Categories: Horror, Movies, Reviews | Tags: 1980s, 2000, cult film, film, guest contributor, Horror, Mawr Gorshin, movie reviews, review, serial killers, serial murderers, slasher, slasher films, slashers & serial killers in review | Leave a comment
---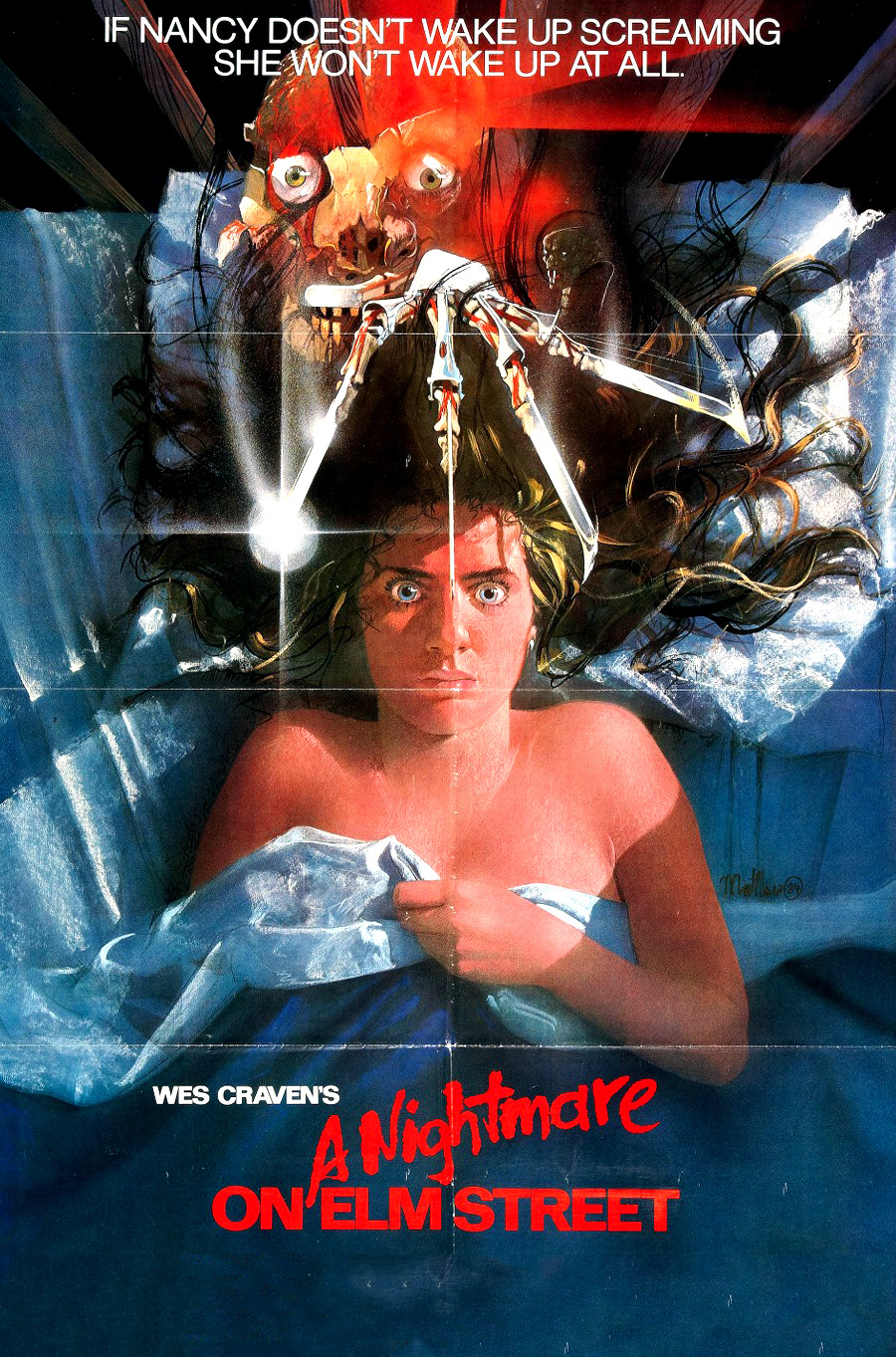 I wish to start my review by saying that while I was alive in 1984, I led a mostly sheltered life (read: my parents were NOT going to let me as a tender 12-year-old go see a HORROR (gasp!!) movie.)  So, I didn't see A Nightmare on Elm Street until I was late into my teens. That being said, there are movies that transcend the era in which they first appeared.  Dracula, Frankenstein, Bride of Frankenstein despite being made in the 1930's still hold sway over generations not even considered then.  Night of The Living Dead, Rosemary's Baby and dozen's more still thrill us fifty or more years later.  For every Jigsaw (2017) there must be a Texas Chainsaw Massacre (1974).   My point is that even though it was not a current or hot movie when I saw it, it still held as big a punch for me as if I were a starry-eyed tweenager in 1984.  Continue Reading
January 30, 2018 | Categories: Horror, Movies, Reviews | Tags: 1980s, A Nightmare On Elm Street, Chuck Knight, cult film, film, Freddy Krueger, guest contributor, Horror, horror icons, horror movies, movie reviews, Reviews, slasher, slasher films, slashers & serial killers in review | 3 Comments
---
Not unlike me, while slasher movies weren't invented in the eighties, the eighties was when slasher movies became great. See what I did there? In all seriousness, though, ask anyone to name a slasher movie and chances are, most people will name one of the big three, Friday The 13th, Nightmare On Elm Street or Halloween, all of which have been remade over the past ten years or so. And all of them really took root in the consciousness of our culture in the eighties. Still, there were a number of other examples that rose out of this period and jumped on the bandwagon. Many of them were standalone films, or simply lacked the power of the majors, but there are still some good ones in there. For me, coming across these movies at the time, at the age I was, it made a huge transition in my life. I had loved movies up until that point, but it was more for the fantasy of it, the spectacle and the majesty.
This was the first time that a movie scared the shit out of me.
I never considered that film could have such a powerful, emotional effect. For the first time, I didn't really feel safe in the theater, or on the couch. And it was from there that my love for dark fiction was born. Not because I thought the carnage was cool (although often it was) but because I loved that experience and the impact that images and words could have.
One last thing I will say in general before we get to the heart of this is one important aspect of slasher movies in the eighties. And that would be the sex. I don't mean this in a titillating way, although at a young age, this was some of my first exposures to sex and the female anatomy. What I'm talking about is the function that sex played in the story.
In the eighties especially, sex was like the redshirt for horror movies (sorry if you don't get the reference here but Google is only a click away). Characters who had sex on film were almost certain to meet their grisly demise shortly after. It wasn't unusual for someone to actually meet their end mid-coitus. The message often seen in these films was pretty plain to see.
Sex equals death.
We're going to come back to this point so hold on to it, okay? Put a pin in it.
That brings us to the movie of the hour. Silent Night, Deadly Night.
The movie starts out with the main character as a child. After visiting his grandfather in a nursing home, Billy is forced to witness his parents murdered in front of him by a man dressed in a Santa suit. His emotional damage is furthered while living in a foster home under the supervision of a tyrannical nun, Mother Superior.
As an adult, Billy is talked into dressing up as Santa Claus for the store he works at. At some point during the night, he witnesses an act of sexual violence between two coworkers and he is triggered into launching a killing spree in the town.
This film was the embodiment of the idea of sex leading to death. As a child, Billy is battered with Mother Superior's influence that immoral people have sex and should be punished. This clearly has an impact on Billy as he ends up killing several people either immediately after or in the act of having sex. He literally becomes a kind of uber-violent puritanical, acting out his hatred for those who choose to engage in the sins of the flesh.
And I suppose for being naughty?
He is Santa Claus, after all.
This film was pretty controversial when it first came out, even though it was hardly the first of its kind. I think that a large issue with the public was the fact that the film was actually released during the holiday season. Also, the promotional material for the film placed a heavy emphasis on the fact that the killer was dressed as Santa Claus.
The moral outrage evidently became so outspoken that Gene Siskel actually took time out of their program to call out members of the crew by name, just so he could point his finger and say, "Shame on you." As a result of public pressures, TriStar Pictures did end up pulling the film from theaters. It would be re-released early the next year by a smaller studio, exploiting the controversy around the film in order to promote it.
Say what you will about the movie, there was enough of a following to justify four sequels and a loose remake that came out in 2012. Interesting trivia note – the Silent Night remake featured one Malcolm McDowell, who starred in another classic horror reboot, Rob Zombie's Halloween in 2007.
I honestly can't say if Silent Night, Deadly Night is that great of a film. It certainly is exploitative, loaded full of nudity and sex and graphic violence. The story is a bit on the cheesy, trope-heavy side, the innocent child drove into becoming an insane murderer by the cold, overbearing nun in the foster home. The killer who sees himself as a kind of moral avenging angel. At moments, it has the feel of an over-the-top after-school special in that it tries a little too hard to be earnest and isn't particularly subtle.
But being honest, I don't think that you should reasonably expect anything else from a movie like this. It would be like complaining that you got heartburn from the taquito you got at the twenty-four hours greasy taco truck. It's a fun movie and I think that should be taken into consideration when evaluating it. If you enjoy the gore of horror movies and watch it for the kills, you'll probably like this one.
For me, this film is more important in relation to the point in my life in which I crossed paths with it. It was one of many films lying around in the stack of VHS tapes at home and it was when I was in grade school that I first saw it. It was scary, but there was also that thrill of watching something you weren't supposed to see, the taboo of the thing that made it exciting. I have made a point to not rewatch this over the years, choosing to preserve my fading memories of the film as opposed to reconfiguring my viewpoint by watching it now.
Silent Night, Deadly Night will always be locked away in a memory box for me. It was a time when I was first introduced to the irreverent potential of storytelling, the emotional impact that movies could have as well as the realization that there was a whole new world out there, just waiting to be discovered on the back of a good video store membership.
Chad Clark is a frequent flyer here on Machine Mean. He has reviewed for us before with commentary on House of Dracula (1945) and House of 1000 Corpses. Mr. Clark is a midwestern author of horror and science fiction. His artistic roots can be traced back to the golden era of horror literature, Stephen King, and Robert McCammon being large influences. His love for horror began as well in the classic horror franchises of the eighties. He resides in Iowa with his wife and two sons. Clark's debut novel, Borrowed Time, was published in 2014. His second novel, A Shade for Every Season was released in 2015, and in 2016 Clark published Behind Our Walls, a dark look at the human condition set in a post-apocalyptic world. His latest book, Down the Beaten Path, released in September 2016. You can keep up with all of Mr. Clark's works by following him on Amazon here.
And you do not want to miss this box set from dark fiction author Thomas S. Flowers. Still on SALE for

$0.99

!!!
December 19, 2016 | Categories: Horror, Movies, Reviews | Tags: 1980's, ax murderer, Chad Clark, Christmas, Christmas horror movies, Classics, dark, exploitation, exploitative, fiction, film reviews, films, guest authors, holiday classics, Holidays, Horror, horror reviews, movie reviews, Murder, nudity, Reviews, Saint Nicholas, Santa Claus, serial killers, sex, Silent Night Deadly Night, slasher, slasher films, slasher flicks, violence | 4 Comments
---