Released Date: Oct 2001
Director: The Hughes Brothers (Albert & Allen)
Starring: Johnny Depp, Heather Graham, Ian Holm & Robbie Coltrane
Brief Synopsis: Based on the graphic novel by Alan Moore & Eddie Campbell. A clairvoyant detective investigates the Jack the Ripper murders in turn of the century England. The investigation leads him to an unspeakable conclusion.
Review by: Feind Gottes
I have to start out by telling you From Hell is one of my favorite movies. It's right up there with Se7en when it comes to crime thrillers that dip a toe or two in the horror waters. If somehow you have not seen this movie you need to correct that mistake immediately! So to start, everyone should know about Jack the Ripper, at least, in a general sense – a serial killer who stalked the streets of London from August 1888 to November 1888 credited with killing five known prostitutes in the Whitechapel district of London. The case stands as the most famous unsolved murder case in history. That may change soon but I'll touch on that at the end. The film From Hell explores a conspiracy theory that is interesting to explore though has about as much chance of being correct as I have of being Bigfoot in disguise but it is fun to think about. The film makes this theory seem far more plausible than it is but then it comes from a graphic novel written by one of the most brilliant writers of our time, Alan Moore (if you don't know who Alan Moore is go look it up! NOW!) Continue Reading
---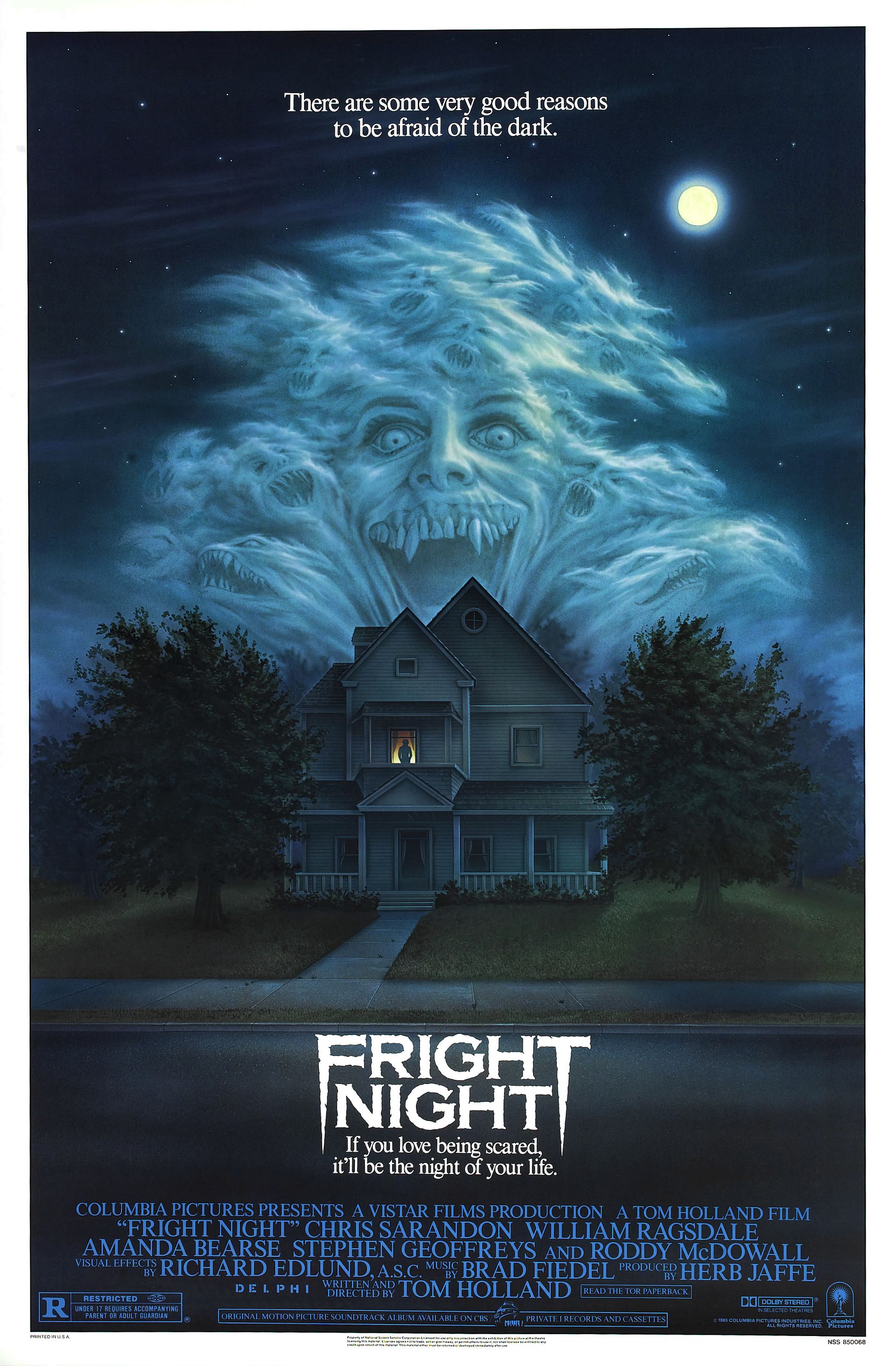 Fright Night (1985)
Written & Directed by Tom Holland
Starring: Chris Sarandon, William Ragsdale, Amanda Bearse, Stephen Geoffreys and Roddy McDowall
The Gist: A horror-obsessed teenager discovers that his next door neighbor is a murderous vampire. He attempts to convince the police, his family and friends to no avail. Seeing no other option, he takes matters into his own hands.
The Review (ish):
It was 1985. I was twelve going on thirteen, finally I was about to be taken seriously as a teenager! If you believe that I also have a vampire living next to me. In 1985 when Fright Night was originally released I would still consider myself a fledgling horror fan well on my way to a lifetime trudging through the wonderful world of blood and guts. It was a time when many local stations all over the country had some sort of Horror Host on late night usually on a Friday or Saturday night who did goofy gags, related movie trivia and usually showed low budget, B Horror movies. Horror Hosts kind of died out for a while though they've made a nice resurgence in recent years thanks to the internet where any horror fan can get a show started provided they have a camera or hell, just a phone these days. Why bring this up? Have you seen Fright Night? If you answered no and consider yourself a horror fan then you may want to just stop here and go correct that. Seriously, stop reading dimwit! Go watch Fright Night! Then grab some coffee and we'll talk. Go on… I'll wait.  Continue Reading
---
Directed by Len Wiseman
Written by Len Wiseman, Kevin Grevioux & Danny McBride
Starring: Kate Beckinsale, Scott Speedman, Shane Brolly, Michael Sheen and Bill Nighy
The Gist: A war has been raging between vampires and lycans for centuries though there has been peace for many years until lycans come out of hiding once more. Selene, a vampire warrior, and daughter of one of the most powerful vampire lords, Viktor, finds herself in the middle of the war and a mystery when she meets Michael who is wanted by both sides.  Continue Reading
---