Dracula
Release year: 1979
Starring: Frank Langella; Laurence Olivier; Donald Pleasance and Kate Nelligan.
Directed by: John Badham
Review by: D.S. Ullery
Whether or not an adaptation of Dracula succeeds – and there have been many – comes down to the actor playing Bram Stoker's legendary Count.  Bela Lugosi and Christopher Lee each put their own, definitive stamp on the character, as did Gary Oldman in later years. Even Jack Palance delivered a memorable turn as the vampire in a terrific 70's- era television movie. Continue Reading
---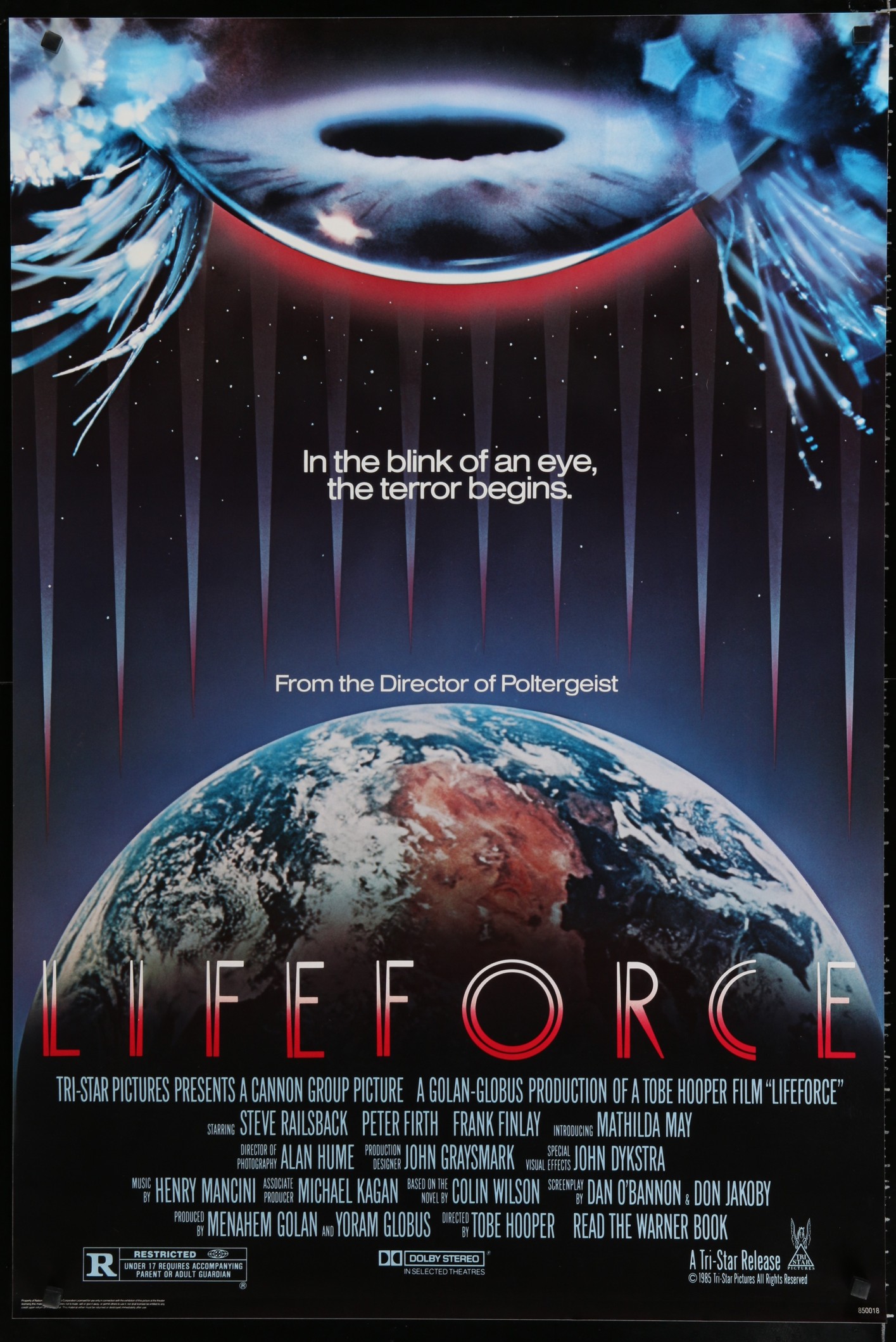 Lifeforce
Released: 1985
Directed by: Tobe Hooper
Written by: Dan O' Bannon and Don Jakoby
Starring: Steve Railsback; Peter Firth; Aubrey Morris; Mathilda May; Patrick Stewart
After  Poltergeist  was released to critical and box office success in 1982, director Tobe Hooper was a hot commodity.*  Having already established himself as a genre master with his debut film The Texas Chainsaw Massacre,  the twisted backwoods horror Eaten Alive   (which featured an early appearance by a very young Robert Englund), a superb television miniseries adaptation of Stephen King's Salem's Lot and the underappreciated (and unnervingly creepy) classic The Funhouse, his collaboration with Steven Spielberg seemed to set Hooper on a much deserved and long overdue transition into the mainstream spotlight.  Continue Reading
---
Return of the Living Dead
by D. S. Ullery
Released August 16,1985.
Screenplay by Dan O'Bannon
Story by John Russo, Rudy Ricci and Russell Streine.
Directed by Dan O'Bannon
Starring Clu Gulager; Thom Matthews; James Karen; Don Calfa
There's a moment about midway through Return of the Living Dead wherein several humans (who are  trapped inside of a funeral parlor as waves of zombies run rampant outside)  tie the writhing half-corpse of a long dead woman to an embalming table.  Continue Reading
---