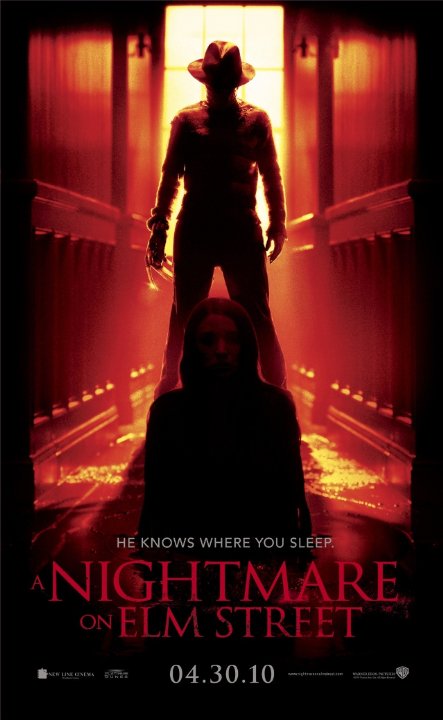 A NIGHTMARE ON ELM STREET (2010)
[95 minutes. R. Director: Samuel Bayer]
Within the past two decades, horror remakes have gone from distinctive, auteur-driven works to mass-produced product. Horror remakes prior to the millennium were created with specific intent: Werner Herzog's 1979 rendition of Nosferatu reconsidered F.W. Murnau's 1922 silent film with improved technology; John Carpenter's re-take of The Thing updated a 1950s alien-invasion flick into a transformative missive on assimilation and isolation; and David Cronenberg brought gravitas to his FX-heavy, 1986 version of The Fly.
Heck, even Gus Van Sant's shot-for-shot remake of Psycho was noteworthy for its big-studio gamble on a film that amounted to an elaborate "because I can" technical experiment.  Continue Reading
---
[65 minutes. Unrated. Director: Jorg Buttgereit]
Sometimes – okay, a lot of the time – I question the logic that drives my physical-media collection. Why are some DVDs more disposable and trade-worthy than others? Why are others as immovable as Stonehenge? There are films that sit on my shelves, never leaving the shrink-wrap; and others that are so mood-specific, I only re-watch after a passage of years. Salo is a great film, no question about it, but two hours of feel-good vibes it most certainly ain't.
The same applies to the work of director Jorg Buttgereit.
After a string of shorts, his career began proper with the worldwide-controversial Video Nasty Nekromantik, which took a semi-comedic approach to a young couple's desire to bring a rotting corpse into the bedroom. While a fine showcase for Buttgereit's low-budget ingenuity (including some sick – and sick-funny – practical gore effects), the film was little more than the sum of its shock value (and I liked its labored, cheap-looking sequel even less).
The director fared much better with two other efforts: 1990's actively oppressive Der Todesking (English translation: The Death King), which follows a group of unfortunate souls who fall victim to a lethal chain letter over the course of a week. The film is devoid of hope, and its experimental nature (more anthology than conventional narrative) creates a detachment from the characters that is deliberately cold. One can imagine Buttgereit's intent: "This is humanity with the forced pleasantries and rule of law removed – see it and weep."  Continue Reading
---
---