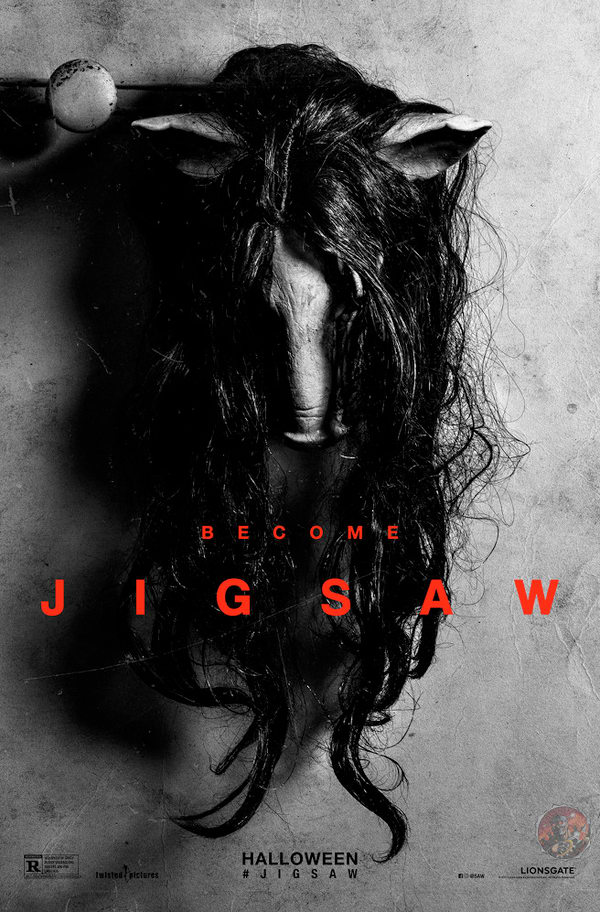 The Jigsaw killer strikes again a decade after his death, setting up several traps for five people who need to atone for their sins. This film follows a male and a female forensic pathologist as they help uncover clues as to how the Jigsaw killer has returned from the dead. Meanwhile, a team of detectives suspect that these two are the copycat killers. Find out for yourself whether or not Jigsaw faked his death! I mean… he is the only one able to do something like this, right? Or did he set up enough secret traps before his death to last a lifetime?
First, let's discuss a little bit about the films prior to Jigsaw. The original film, Saw, was the most unique out of the lot. The budget wasn't extremely high, and in comparison to the following films it did not nearly have the amount of gore that this series is so famous for. Most of the films follow an ongoing detective investigation trying to find the Jigsaw killer and rescue those still alive while we watch them try to escape the traps that the Jigsaw killer and his accomplices set up for them.  Continue Reading
---
What do you get when you take a ghost mask, a voice-changer, and a knife — and then multiply it by three? Scream 3, of course!
This film opens with a scene somewhat mirroring the original opening scene from the very first Scream movie, but with a twist — the whole "Wanna play a game?" scenario with everything starting off somewhat flirty and harmless. This time, though, the killer calls Cotton Weary (Liev Schreiber) saying that he's outside of his girlfriend's bathroom. Of course, when Cotton hears this he rushes home to his girlfriend's rescue… only to find her hiding, and, unknowingly, with the killer still in the house. Shortly after, they are both attacked, and neither make it out alive.  Continue Reading
---
Run Time: 91 minutes
Director/Writer: Frank Henelotter
Main Cast: Kevin Van Hentenryck, Terri Susan Smith, Beverly Bonner, and Robert Vogel
A young boy and his basket creature travel to New York City in hopes to start their life anew, but not without seeking a bit of revenge first. Will the unexpected pair make it out alive? To find out, watch Frank Henelotter's Basket Case.

I really enjoyed the opening scene and it was an excellent way to foreshadow what this film has in store:  just enough suspense, just enough creature, just enough silliness, and just enough gore! The special effects were certainly not lacking during this scene at all; as a matter of fact, the entire film had pretty decent special effects — that is, aside from the most important part: the monster itself — but with a film like this, I can forgive it. (I probably shouldn't, but when you see it for yourself you'll understand why.)

Another subject that I find important to mention to those who are interested in watching this film is the music. It is to DIE for!  It reminds me a lot of the music that you often hear while watching an Italian horror film, or, to be more specific, a giallo mixed in with a few short spurts of music that could only be described as something you would expect to hear on Seinfeld. Quite a strange but beautiful combination, but it somehow works!
Every character that you encounter during this wild and crazy adventure is so over-the-top and hilarious in their own way, with one of my favourites being the secretary for the doctor near the beginning of the film. The writing in Basket Case is campy and fun, but you really have to be in the mood to watch a film like this; it's not campy in an Evil Dead sort of way, it's campy in a way that's almost too much. Perhaps I'm looking at this film with too much of a critical eye, but for me to analyze this film this much in depth  it almost makes it a bit less enjoyable.

For the most part, the acting isn't terrible and is about on par with what I would expect for a film like this. It doesn't take away from the film, nor does it distract me, and if anything it adds to what makes this film so enjoyable for a horror fan. In most films, this kind of over the top acting would be frowned upon, but it honestly works for this movie. As for the cinematography — it is what it is. I feel like the scenes were well-filmed and that they weren't just filmed once and thrown into the film. (Yes, I'm looking at you, Microwave Massacre.) The director obviously came into this film with the intent for it to be over-the-top, and he succeeded in that manner, but, to be honest with you, there are scenes that just went too far.  I will let you know: you do unnecessarily see a man's willy in this film, and, like any other mature, adult lady, it totally gave me the giggles. All in all, I rate this film five-and-a-half deformed monster sex scenes out of ten, and I recommend you to rent this movie!

Hi! I'm Chantel, also known as Channy Dreadful (the headmistress of dreadfulreviews.com), and I am one creepy ghoul hailing from a small city in Saskatchewan, Canada. I am a semi-regular podcast voice, making guest appearances on several podcasts — with the first being Dead as Hell Horror Podcast, and as well on the likes of The Resurrection of Zombie 7, Land of the Creeps, Streaming Horror Society, Horror Movie Podcast and Whedonverse Podcast. Horror-movie-wise, I prefer movies that dabble in the paranormal as well as demonic possession films. These ones get under my skin the most and if done correctly they can also linger in the back of my mind for several days. I also enjoy slashers — the classics, mostly — with killers such as Michael Myers, Freddy Krueger, Jason Voorhees and my personal favourite Ghostface. I spend most of my free time (aside from watching horror films) reading and collecting comic books, which has been one of my favourite pastimes since I was just a little batling. I have also been a professional paranormal investigator with several groups for the past seven or so years locally, with roots stemming from my childhood. Horror and the paranormal have always been a passion of mine, and have part of my life since I can remember. If you're interested in getting to know me further you can follow me on Twitter @channydreadful! Keep it creepy! xxx
Be sure to stop by
DREADFUL REVIEWS

to catch all the latest in horror movie news and reviews from none other than Channy Dreadful!!!
---