Fright Fest 2019: The Endless (2017)
Directed by: Justin Benson, Aaron Moorhead
Writers: Justin Benson
Starring: Aaron Moorhead, Justin Benson, Callie Hernandez, et. al.
Released: April 2017 (Tribeca Film Festival)
Review By: Erin Sweet Al-Mehairi
Synopsis: "As kids, they escaped a UFO death cult. Now, two adult brothers seek answers after an old videotape surfaces and brings them back to where they began" -IMDb.
"The Endless" (2017) has been a movie I've heard great things about since its availability, so it had been on my list for a while now to check out. It's fast become a classic watch with many people recommending it on social media. I love horror and sci-fi and fantasy meshed together, and I think you get a taste of all three here, primarily because you can't tangibly see the entity that creates the tension in the film. However, it's categorized as an American science fiction film. Another reason the idea of this movie appealed to me is of course the cult aspect. And I am all for a good cult.
Justin Benson and Aaron Moorhead not only directed "The Endless," but Benson wrote it, Moorhead did cinematography, and both were editors. One stop shop. I don't really know how they did all that, and also, acted in the roles of the two main characters. They pulled it off well with a limited budget.
If you haven't seen "The Endless," Justin and Aaron (the filmmakers use their real first names for the character's names – weirdos) are brothers (not in real life – though they look like it!) who had left what the older brother Justin believes was a UFO suicide cult. 
Years later, younger brother Aaron hates their low income, ramen noodle eating existence of a life and blames his brother for removing him from the compound where they ate well and had friends. I thought this part was a little stilted in dialogue and emotion, so I wondered how the rest of the film was going to be, but I'm glad I endeavored on in watching. It picked up as soon as Aaron watches a video tape he was mysteriously sent of another compound member and convinces Justin to head back to the desert to see everyone. 
The brothers seem at each other's throats a bit, have sibling rivalry and fights. Aaron is mad at Justin for ruining his good life and Justin just wants Aaron to see he saved him. Aaron longs for comfort again and Justin is an advocate for free will (and apparently so he thinks, living at all and not dying). Isn't that the perfect representation of many people, facets, or groupings in life? It's a common fight, not just between siblings. However, the characters do cast a good look at siblings and the protectiveness that comes with it, as well as the rebellion, especially when your older sibling replaces your lost parents (a car accident in which their mom was killed is the reason they ended up at compound in the first place).
Obviously, the sibling bickering is a main propellant in the story and plot as they get to the compound and see everyone again, encounter Hal (the cult leader who says he's not the leader), and begin to see all the weird things around them again. Does an entity exist? What is the entity? Does it talk to them through the video tapes and cassette tapes and old movie projectors onto drying sheets? They decide to spend one day there, but soon that becomes more, but then what's that about them having to leave before the third moon becomes full? Why are there three moons anyway?
There are time loops here in the California desert. We can even see the bubbles in the movie. The circle signs are everywhere in everything. The wind chimes, campfire, moons, a compass, in the sky, everywhere you look. Is it like Battlestar Galactica? What happened before will happen again? Is life all a big circle? We are born and die and are born again? What does the entity want with us? Does it compel and dictate our life, or does it just observe us?
That's a lot of questions right? Well I had a lot of questions. This movie makes you think, and I believe it's supposed to make you think. The directors say time and again that the answers are all there to this puzzle of a movie – and maybe I can see that – but there are no answers to the questions it raises about life itself on a deeper level. The use of statues and totems and idols seem like a direct use of faith. Humanity having faith in something, no matter time period or place, it all revolves. Faith in something to explain existence and profess afterlife. Something to believe in. Do we make these up? Did something create us and pulls our puppet strings? Can it also destroy us on a whim? The movie takes an interesting look at cult and societies that form based on faith in something – what a cult leader is professing to any religion and how they are formed, why, and the lengths that they go. 
All of the wonderful cinematography using the statues/totems, wind chimes tinkling in the wind, to the grainy feel like sand of the viewing (like we are watching through a projector ourselves) and each placement of item around the scene, makes this movie very unnerving – which is the scariest kind of scary for me. Using technology from the past eras in a modern movie also adds a level of layering to it – the technology is very eighties. And the musical score – I mean great directors use music as part of the plot, as a character, a driving force. The ambient, electronic music here by The Album Leaf is no different. Using the song House of the Rising Sun is genius and petrifying. All this while, as the film plays, I'm wondering what's circling around and above them. What's making all this happen? Will they survive? Are we going to survive ourselves? I'm lost inside the film and I want out, just like Justin does.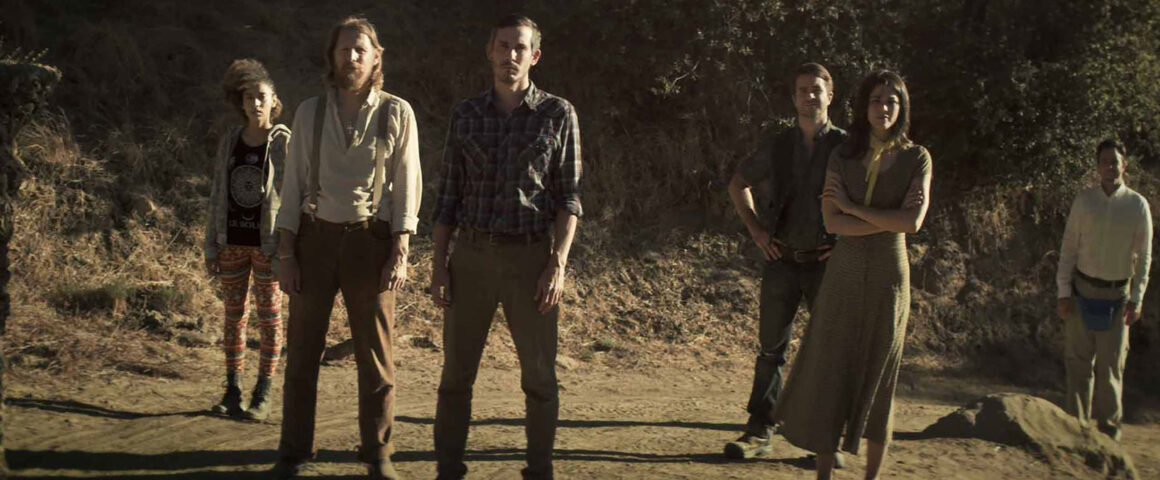 I can't say I've had a movie make me all parts crazy as much as "The Endless" did. I don't know if it's because of questions I've already been having about life or if the prospect of aliens always scares me enough to mess with my mind, but this movie really did. I feel mind probed and I am not sure if I like it or not. I'm uncomfortable. I'm also okay with being uncomfortable. It challenges me and pushes me. This movie did that. It's made me think. The ending I'm sure by now you're guessing is depressing if you haven't seen it, but it's far from that. I can see how it could be – you'll wonder while you're watching if the death cult sees their death in the end, if the brothers do. But it's full of hope and some sort of life. Is there a way out of choosing between a meager existence and a cookie cutter one led by someone else? Is there a way out of what the entities might dictate for us? Is there more to life or after life? Do we get to choose of our own free will now, in other plains of existence, in what comes after? Or is it all a circle? There is a time travel element here that I really liked as well that has me grappling for clarity where there will be none of course. Does life revolve? 
You can choose what you think by the time you get to the end. But I guarantee you'll be thinking, "what did I just watch?" Possibly, like me, you'll be unable to get it out of your head for over twenty-four hours – clock is still ticking. This is an intelligent, deep thinking, cyclical film that takes viewers out of their comfort zone, questions humanity and our preconceived notions, and pretty much, scares the F-word out of you in the most unnerving way. If you like science fiction horror, I'd hands-down recommend watching this one.
I heard their 2012 "Resolution" shared a world and plot, but also read they feel it's not necessary for people to see "Resolution" prior to "The Endless." I don't feel I missed anything in that regard. It's an additive that both are in this micro-world for viewers who are following the movies, though. I confirmed this through reading an interview they had on Dread Central.
"The Endless" can be viewed on Netflix free with subscription or rented on places like Prime for $2.99 or so. I will go and watch the other films by this director pair as I heard also that "Spring" is phenomenal. That is, once I can get my mind back under control from the complete alien-probed, mind jarring occurrence "The Endless" has given me.
Erin Sweet Al-Mehairi has Bachelor of Arts degrees in English, Journalism, and History. She has twenty years of experience in the communication and marketing fields and is currently an author, writer, journalist, publicist, and an editor. 

As an author, Breathe. Breathe., published by Unnerving in 2017, is her debut collection of dark poetry and short stories and was an Amazon best-selling paid title, debuting at #2 in Hot New Releases in Women's Poetry, behind NYT best-seller Rupi Kaur's new release, and held both that and in the top ten of horror short stories several times over the course of the year after publishing. She has poetry and short stories featured in several anthologies such as Hardened Hearts, Dark Voices, Project Entertainment's My Favorite Story, and the recently released Amazon #1 new release best-seller in horror anthologies 7 Deadly Sins of the Apocalypse from Fractured Mind Publishing. Her poetry and stories have also been in magazines and e-zines such as Enchanted Conversation, The Siren's Call, Spillwords Press, and Spreading the Writer's Word. She was also the co-editor and curated the poetry portion of the Gothic anthology Haunted are these Houses and is the editor of an upcoming charity anthology called Survive with Me, coming in 2020 from Alien Agenda Publishing.

In horror, she's been a contributor to sites such as Beneath the Underground, The Horror Tree, and Machine Mean. You can e-mail her at hookofabook (at) hotmail (dot) com and find her easily at her website Oh, for the Hook of a Book!, Amazon, or GoodReads. You'll also find her on Facebook, Twitter (@erinalmehairi), and Instagram.
Spooky Reads!
"Breathe. Breathe. is at times haunting, visceral, bittersweet, and tender. Erin Al Mehairi bares her soul and invites readers to devour it whole."
—Hunter Shea, author of We Are Always Watching.
Happy Octoberween, everyone! And welcome to this years
Fright Fest

!!!