Fright Fest 2019: From Beyond (1986)
Director: Stuart Gordon
Writers: H.P. Lovecraft (short story), Brian Yuzna (screenplay), Dennis Paoli, Stuart Gordon
Starring: Jeffery Combs, Barbara Crampton, Ted Sorel, Ken Foree, et. al.
Release date: October 1986
Article: "Is that a Pineal Gland in Your Head, or Are You Just Happy to See Me?" by William D. Prystauk (aka Billy Crash)
Beginning of Beyond
Following his breakthrough film Re-Animator, which also thrust stars Jeffrey Combs and Barbara Crampton into the horror slimelight, director Stuart Gordon unleashed From Beyond to the big screen in 1986.
Based on HP Lovecraft's short story of the same name, From Beyond explores another mad scientist venture. Dr. Pretorius (Ted Sorel), named after the egomaniacal lunatic scientist from Bride of Frankenstein, has developed the "Resonator" with his assistant, Crawford Tillinghast (Combs). This time, the desire is not to re-animate the dead, but to dive deeper into human consciousness and stimulate one's sixth sense.
When the Resonator's activated, strange creatures from another dimension swim through the air. Pretorius' body dies, Tillinghast is sent to an asylum, and soon, another scientist, psychiatrist Dr. Katherine Michaels (Crampton), wants to see the machine since she thinks it can help in the treatment of schizophrenia. Accompanied by detective Bubba Brownlee (Ken Foree), Michaels and Tillinghast re-enter the house on 666 Benevolent Street to determine what the Resonator really can do.
Lust to the Future
From Beyond goes far beyond a mad scientist trying to make his mark with a new discovery. And it certainly isn't about stimulating the sixth sense or curing schizophrenia, this is about pure unadulterated lust for excessive sexual pleasure.
"He used to bring beautiful women here… eat fine meals, drink fine wine, listen to music… but it always ended with screaming," says Tillinghast about Dr. Pretorius. At one point we learn that Pretorius became impotent, or maybe had been all along, and received pleasure from harming women through abuse disguised as safe and consensual BDSM. This impotency may be the entire reason for him creating the tall, erect, phallic-centric Resonator to penetrate another dimension. For Pretorius, it's all about desire and personal pleasure, and From Beyond follows suit by becoming a vehicle for phalluses galore.
Pretorius' Resonator stimulates the pineal gland, which helps regulate sleep. It's a small gland at the base of the center of the brain. Yet, in the film, it somehow worms its way through the brain and skull and out of the head like a phallus: The exact place where "the third eye" is supposed to reside. That third eye is associated with the occult and is often envisioned as being embedded in the forehead. This "eye" denotes wisdom and perception beyond normal sight – something Pretorius wanted to achieve with his sixth sense goal. In this case, the erect and searching pineal gland means that Pretorius has "sex on the brain" and not much else.
But one can imagine that Pretorius simply wanted this inter-dimensional breakthrough to serve only one purpose: To help himself. To fuel his egomania into a more misogynistic, self-centered, and sex-crazed state of mind.
The Monsters
If Pretorius represents Dr. Frankenstein in some way, his only creation is a new and worse envisioning of himself. He has become his own monster.
To further support the male-dominated center of his creation, his neck can stretch – becoming long and erect – as he tries to consume both Tillinghast and Michaels. He doesn't care about them; he wants to conquer and devour their essence for notches in his ethereal bedpost.
At one point, Tillinghast and Brownlee rush to the basement, the dungeon and nether region of Pretorius' lair, to turn off power to the Resonator. Both are thwarted by a giant, phallic worm hellbent on consuming them as well, which represents Pretorius' penis in absentia.
Michaels' Mistake
Unlike Pretorius, Michaels has a different and more nurturing view of the world. She truly believes the Resonator, once turned on and connected to this other dimension, can somehow help souls suffering from schizophrenia.
In a way, she becomes a temporarily insane mad scientist of sorts. Michaels over-rides logic and reason with her own emotions to serve others at all costs.
If Pretorius represents the dark side of humanity, Michaels represents the good, but neither can achieve what they want because they have broken the basic rules of scientific exploration. Both refuse to stand back and observe. Both refuse to test within the proven regularities of scientific method. They both want to rush towards a resolution, which is their collective undoing.
In Michaels rush to find answers, she's fueled with pleasure by what comes through from the other side. This drives her to take on a persona that mirrors the strong woman she already is, and we find her dressed in a Domme outfit, of the wrongly named Dominatrix because both Michaels and women playing that role do not turn "tricks." Michaels becomes sexually driven, as Pretorius had been, which only solidifies that this other dimension is a self-consuming pleasure center. But unlike the twisted Pretorius, can she ultimately ground herself?
Behind the Scenes
Supposedly, the Domme outfit Crampton wore so damn well in the film became just another item in her yard sale. Though this may be a myth since wardrobe doesn't normally lose items to actors.
Even so, the most vital element of Gordon's From Beyond is one of role reversal. Where Combs played the driven and unshaken Dr. West in Re-Animator, he plays a seemingly weak character devoid of confidence. He and Crampton exchange roles where she is a confident force in a sea of crazy.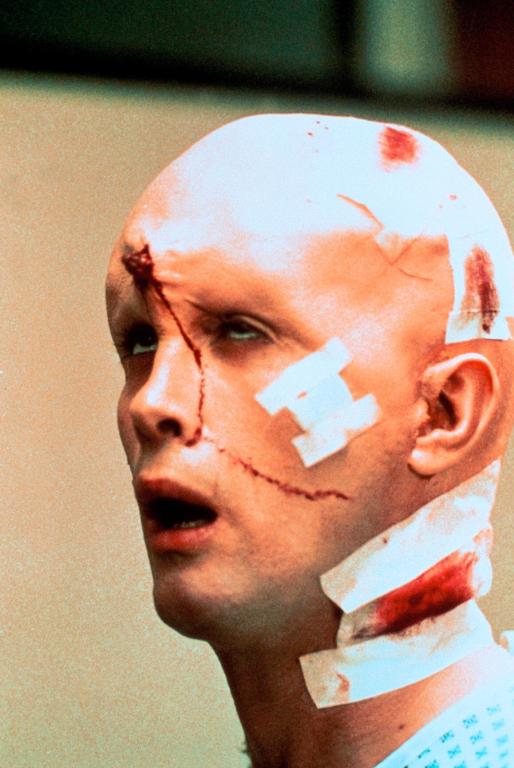 Some say that the Tillinghast role was difficult for Combs because of the character's temperament and mindset, but with his acting prowess, this is hard to imagine. The important element is that both Combs and Crampton created another set of characters that are both memorable and hard to ignore.
From Beyond Resonates
In the end, From Beyond proves to be a bold, crazy, and fun ride navigating its way through egomaniacal sexual emotion. There is much to mine with the tale, but to do so here would reveal way too much. However, if the notion of "sex" is a sub-genre, Gordon's film is at the top of the heap for imagery and innuendo. (At one point, when Michaels sets off a bomb, it's as if this is her orgasm as well as a power move against predatory men.)
666 Benevolent Street serves as a clear "be careful what you wish for" warning, brought to us by Brian Yuzna, Dennis Paoli, and even Gordon, who adapted Lovecraft's story, though Yuzna set it down in screenplay form. Shot in Italy's Dinocitta, there are nods to the use of color that permeate many a Mario Bava production with his Giallo films.
With a solid cast, wild physical effects, and a sex-centric storyline, From Beyond is hard to beat for an off-the-wall popcorn feature.
May your pineal gland lead the way towards cinematic pleasure…
William D. Prystauk (aka Billy Crash) co-hosts THE LAST KNOCK horror podcast on iTunes and at Crash Palace Productions. One of this year's screenplay judges for Shriekfest, he's in pre-production of a dramatic science fiction feature film, about to pitch a new horror cable series to Hollywood, and his award-winning novel, Bloodletting, will be re-printed by PageCurl Publishing later this fall. When Prystauk's not headbanging to punk and metal, and leaving no sushi behind, he indulges in the food group better known as chocolate. Follow him on Twitter as @crashpalace, and look for him under his real name at: LinkedIn, IMDb, Amazon, Behance, and at http://williamdprystauk.com.
Spooky Reads!
"The missing link between "Cruising" and Bad Lieutenant" -Amazon Review.
Happy Halloween, everyone! And welcome to this years
Fright Fest

!!!