Fright Fest 2018: Bordello of Blood (1996)
Bordello of Blood
Released: 1996
Staring: Angie Everhart, Erika Eleniak, Dennis Miller, Corey Feldman, Chris Sarandon, and Phil Fondacaro
Directed by: Gilbert Adler
Review By: Pembroke Sinclair
I've watched this movie several times, and each time I do, I hope that I'm going to like it. It hasn't happened yet. The older I get, however, the more I recognize the not-so-subtle choices made throughout the film.
The first of these is casting. There are a variety of actors in this film that have been in vampire movies before, including Corey Feldman (The Lost Boys) and Chris Sarandon (Fright Night). The irony for Bordello of Blood is that these characters play opposite roles. For example, Corey's character doesn't defeat the vampires in Bordello like he does in The Lost Boys, he becomes one. Chris' character isn't a vampire, but an incredibly religious televangelist. For anyone who is versed in their vampire films, these changes can be viewed as amusing.
The second not-so-subtle choice in this film is the use of humor. For anyone who has ever watched a Tales from the Crypt, they know that the shorts don't take themselves seriously, and they often point back to themselves as being nothing but a tale. Bordello does the same. At one point, Dennis Miller's character even comments that he feels like he's in a bad Tales from the Crypt story (oh, how right he is!).
Bordello is the second film from the Tales from the Crypt franchise, with Demon Knight being released in 1995. This movie was absolutely amazing (and one of my faves!). There are references back to this movie in Bordello in the form of the key that controls Lilith and the mummy dining with the Crypt Keeper in the show.
As expected, there are religious overtones to the movie. This, of course, makes sense since vampires were originally created as an affront against God. There's also the notion that women are either virgins (Katherine Verdoux) or whores (Lilith and the other vampires), and they'll be the downfall of man. There is no in between for the female characters, and they have to be destroyed or they will destroy.
The men don't get much more fleshed out, and they are typical depictions of sinners. There's the brother (Caleb Verdoux) who is only out for a good time and is full of gluttony and lust. There are also people full of greed (Vincent) and a misguided reverend (Reverend Current) who believes that the answer to getting rid of sinners is to employ pure evil. Then there's the private detective (Rafe Guttman) who seems to have his heart in the right place, but occasionally falls into lust and drinking, so we know he's not perfect, but he tries his best.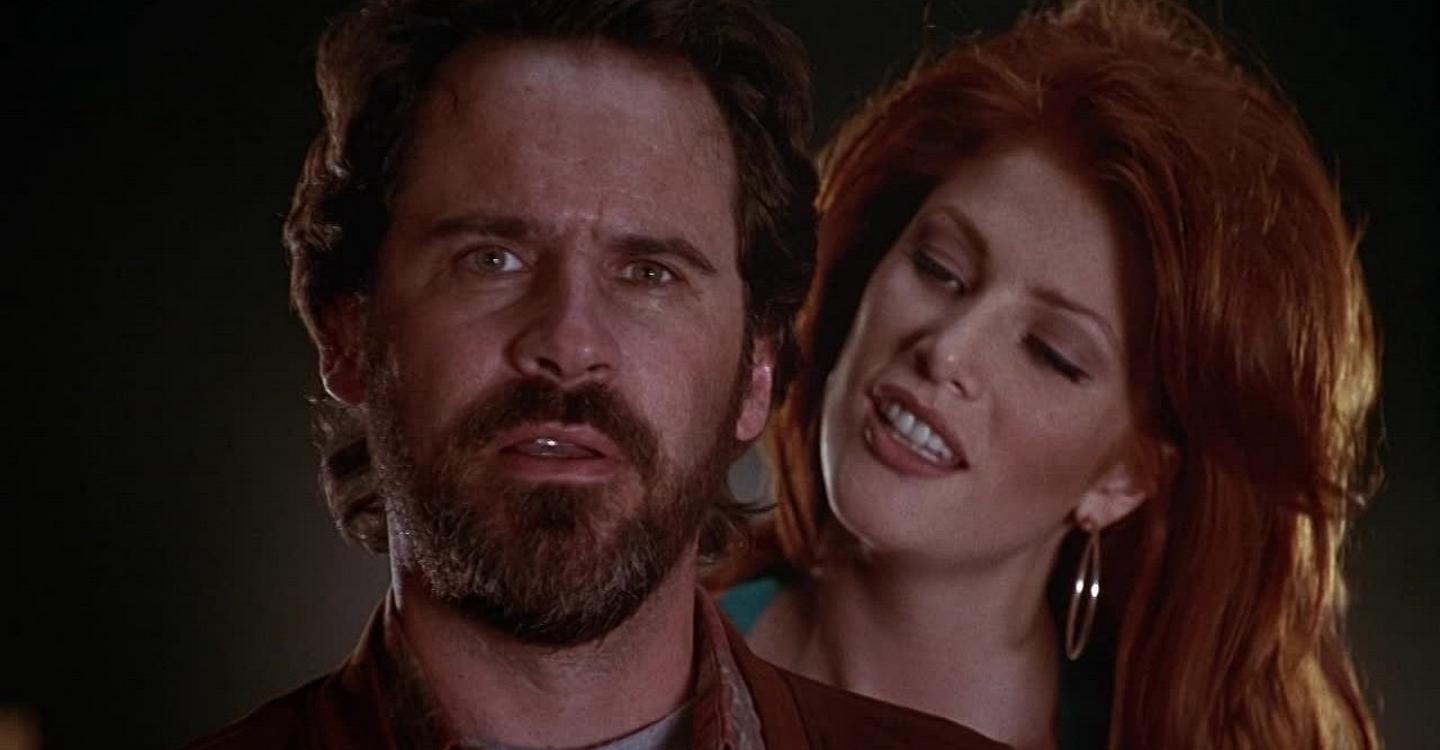 Of course, in the end, the sins get the best of everyone, and no one comes out of the vampire ordeal unscathed.
Bordello takes the notion of religion a step further with the introduction of Lilith. This character is prominent in the Jewish faith, and she's often portrayed as Adam's first wife https://en.wikipedia.org/wiki/Lilith. Instead of being created from one of Adam's ribs, she was crafted from the same clay. Adam abandons her when she develops a mind of her own and refuses to be subservient to her husband. In some texts, Lilith is described as being a demon that steals children and uses sexuality to get what she wants from men.
It's not hard to see how both of these portrayals of Lilith play nicely into the Christian ideal of how a woman should behave. When she denies her role, she's viewed as dangerous and has to be killed. That also explains why Rafe Guttman (Dennis Miller) has to be the one to defeat her. His ties to Judaism are not a secret, and the consecration of her ashes by a Jewish rabbi are supposedly what will keep Lilith down for good…or will it?
Bordello of Blood takes vampire movies that were made before it and incorporates them and the actors into its storytelling. None of the ideas it brings to the screen are new, and even the film doesn't take itself seriously. The best part of the movie is when Rafe and Reverend Current go into the bordello and destroy the vampires with squirt guns. After watching the film numerous times, I can't find much else about it to like.
Pembroke Sinclair is a literary jack of all trades, playing her hand at multiple genres. She has written an eclectic mix of fiction ranging from horror to sci-fi and even some westerns. Born in Rock Springs, Wyoming–the home of 56 nationalities–it is no wonder Pembroke ended up so creatively diverse. Her fascination with the notions of good and evil, demons and angels, and how the lines blur have inspired her writing. Pembroke currently lives in Columbus, Nebraska, with her husband, two spirited boys, a black lab named Ryder, two fluffy Corgis named Floki and Siggy, and a rescue kitty named Alia, who happens to be the sweetest, most adorable kitty in the world! She cannot say no to dessert, orange soda, or cinnamon. She loves rats and tatts and rock and roll and wants to be an alien queen when she grows up. Follow Pembroke at her website www.pembrokesinclair.blogspot.com.
Help Support Our Writers!