Fright Fest 2018: John Carpenter's Vampires (1998)
One thing horror fans love to do is debate which film marked what is historically known as The Decline of John Carpenter. Some believe it began with the final chapter of Carpenter's Apocalypse Trilogy, In the Mouth of Madness. Others waggle disdainful fingers at his comedy misstep, Memoirs of an Invisible Man. There's never a right answer to speculation such as this, but one thing practically everyone agrees on is that Vampires does not belong in the conversation when discussing John Carpenter's classics.
To a certain extent, it's a salient point. Carpenter's latter-day career has often been considered inferior by hardcore fans of the director, preferring to focus on his output during the 1980s. The 1990s were a time when Carpenter could have used a monster hit. Vampires wasn't it, only recouping its $20 million production budget by a few hundred thousand dollars. General audiences were less than impressed, giving the film a Cinemascore grade of D+.
There's a reason for this, but it may not be the one you're expecting. That's because Vampires isn't a horror movie. 
It's a Western.
People don't normally think of John Carpenter as a director of horse operas, but truth be told. He's one of the best. As far back as 1976, Carpenter was making the finest modern-day Westerns this side of Kevin Costner. Assault on Precinct 13 was a grimy glorified reworking of Rio Bravo. Even something as seemingly distant from the Western genre as The Fog still makes sense within the context. The ghosts show up from midnight until one, the unholy opposite of High Noon, to take revenge on a town that wronged them. Clint Eastwood would approve. And has there been a better modern-day cowboy than Snake Plissken? Carpenter has been headin' 'em up and ridin' 'em out since The Resurrection of Broncho Billy in 1970.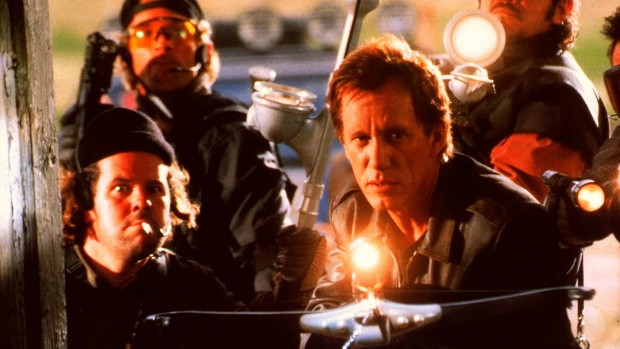 Seeing Jack Crow (James Woods) and his hunting buddies taking out bloodsuckers in the American southwest, it makes complete sense. Vampires lassos us into cowboys and Indians territory. There are even seven people in Crow's crew, and that is magnificent. They're pretty fearless as far as vampire hunters go, employing new and interesting tools. There's nothing like an arrow attached to a winch cable to drag a vamp into the sunlight until it bursts into flame. But this time, they're going after a Grandmaster vampire, a creature named Jan Valek (Thomas Ian Griffith) who wants nothing more than turn Jack Crow into a nocturnal neck nibbler.
Crow works directly for the Catholic church. After his parents were killed by vampires, the church took him in and raised him to be their chief slayer. That's because the Catholics actually created vampires, and how's that for a fine little mythos retcon? Valek and his minions are after a relic known as the Black Cross of Berziers, which was used in an exorcism gone bad. Grandmaster Valek used to be a priest, and they tried to cast the demons out of him with this Black Cross. It didn't work, and Valek turned into the world's first vampire, and listen. Nobody said this stuff made sense, okay? If that's why you're here, for some kind of well-grounded rational explanation of vampire mythology, you're in the wrong movie. This all about foul-mouthed James Woods hunting down the big bad that destroyed his family.
There are no romantic monsters in this movie, no Gothic pale faces lamenting the day of their turning and whinging about how much they miss the sun. The titular Vampires don't have time to wax poetic about their individual existential crises. They slash throats, drink blood, and leave the empty husks behind to rot in the sun like armadillos on the side of a Texas back road. Vicious and brutal, they are the main reason to watch this film. As Valek, Griffith slices people in half with his fingernails and spreads his arms and screams. He wants to be Michael Wincott in the worst way, which prevents him from giving a great perfomance, but he doesn't have to be great. He only has to be thin, wan and moderately bloodthirsty.
Woods is the standout here. His character is vile, profane, and so over the top, one can't help but watch him. It doesn't hurt that his main sidekick is played by Daniel Baldwin with Elvis sideburns and John Goodman's Raising Arizona hair. He's a bore and a boor, and Woods uses this lack of a natural acting predator to rise to the top of the food chain. You might not like James Woods as a human being, but he's a blast to watch in this movie.
It's easy to see why Carpenter fans are disappointed in this movie, though. There are none of the classic visuals the director used in his more popular films. Deep focus and lens flares are nowhere to be seen here, and the visual style of Vampires is more reminiscent of a USA Network original series than anything else. Yet even with that working against it, Vampires is in no way a horrible film.
Just keep telling yourself, "It's only a Western… it's only a Western…" and there's a garish good time to be had here. A D+ score? Hardly. Vampires is at least a B-, and that's a passing score no matter what rubric you employ.
Jeffery X Martin is a pop culture journalist and horror author. His latest book, The Ridge, is available from Shadow Work Publishing through Amazon. Martin is a senior editor at the entertainment website, Biff Bam Pop, where his weekly article, Prime in the Dustbin, reveals the best things about the worst movies on Prime Video. His story, "Ready to Start," was included in the St. Rooster Press anthology, To Be One with You. Martin lives in the dark, verdant hills of Tennessee with his wife, artist Hannah Martin.
HELP SUPPORT OUR WRITERS!
7 responses