Fright Fest: Zombieland (2009)
Zombieland: The Best Zombie Movie
Yep, you read that right—it is my assertion that Zombieland represents the best the genre has to offer. And yes, I will present proof of my claims. But first, the synopsis.
When we meet our intrepid main character, Columbus (survivors go by place names rather than their actual names), we're post zombie apocalypse. Columbus devises a list of rules to remain un-undead, which becomes a running joke throughout the movie (i.e. Rule # 31: Check the back seat; and my favorite, Rule # 17: Don't be a hero—which changes into "Be a hero" by the third act. But I digress.). He meets up with another survivor, Tallahassee, who is on a quest for Twinkies (priorities, man). 
They're soon joined by a pair of sisters, Wichita and Little Rock. They learn about an amusement park in California that remains zombie-free, and the four of them head west. During this trip they encounter Bill Murray.
Bill Murray!
Played by himself, of course. How has Bill avoided being zombie-food, you ask? Well, in addition to being a world-class actor and comedian, he's also a master of disguise. He's been wandering around in full zombie makeup. Since the undead think he's already one of them, they leave him below.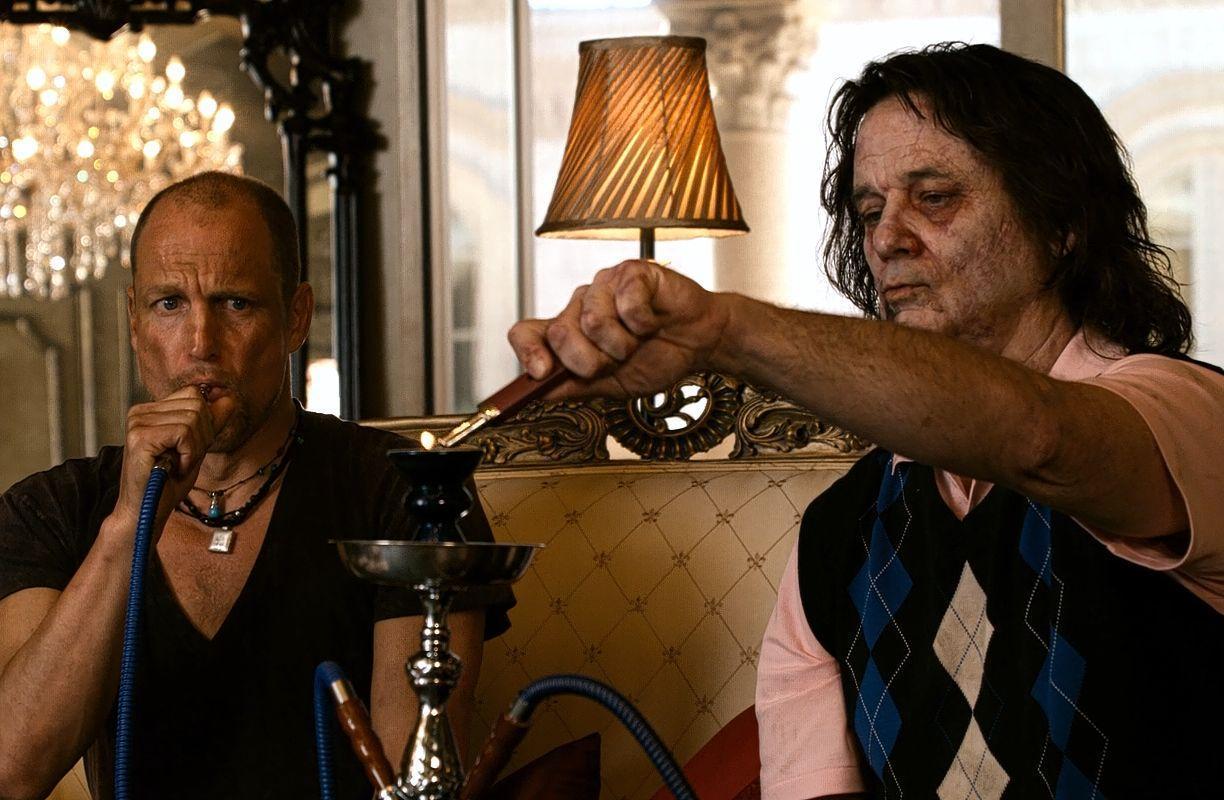 Any further discussion of the plot will delve into spoiler territory, but suffice it to say that Zombieland owes no small debt to Murray and his fab makeup skills. Remember kids, don't be a hero—unless it's time to be a hero.
[editors notes] To kinda reiterate what Jennifer said, Zombieland is in my humble opinion a wonderful film, bordering action and comedy for most of the way, while also slipping occasionally into something more emotionally stirring. Especially when the truth of Tallahassee's past is revealed. If you've seen the part i'm talking about, then you know how dang sad that story is. And there are other gems and metaphors to be found. The entire amusement park quest in itself is really about trying to rediscover or rekindle lost innocence. Wichita and Little Rock never really fully explained how they heard it was "zombie-free." I think perhaps Wichita knew it wasn't, what is zombie-free in Zombieland? Their back history isn't completely known, what we do know is that they were con artists before the dead started to walk. They weren't your typical teenagers. And if i were to guess, due to whatever life circumstance prior to the zombies were never allowed to be just kids. If you ask me, they went to the park knowing it was going to be their last stop, but along the way they discovered even a life in Zombieland is worth having, so long as you have the right people to share it with.
Jennifer Allis Provost writes books about faeries, orcs and elves. Zombies too. She grew up in the wilds of Western Massachusetts and had read every book in the local library by age twelve. (It was a small library). An early love of mythology and folklore led to her epic fantasy series, The Chronicles of Parthalan, and her day job as a cubicle monkey helped shape her urban fantasy, Copper Girl. When she's not writing about things that go bump in the night (and sometimes during the day) she's working on her MFA in Creative Nonfiction. Check out her latest release, Gallowglass.
Karina didn't set out to free the Seelie Queen's gallowglass. Now she'll do anything to keep him. After Karina and her brother, Chris's, lives fall apart in separate yet equally spectacular ways, they leave New York behind and head to the UK. Karina buries herself in research for her doctoral thesis, all the while studiously not thinking about the man who broke her heart, while Chris—who'd been a best-selling author before his ex-fiancée sued him for plagiarism—drinks his way across the British Isles.
In Scotland, they visit the grave of Robert Kirk, a seventeenth- century minister who was kidnapped by fairies. No one is more shocked than Karina when a handsome man with a Scottish brogue appears, claiming to be the Robert Kirk of legend. What's more, he says he spent the last few hundred years as the Gallowglass, the Seelie Queen's personal assassin. When they're attacked by demons, Karina understands how dearly the queen wants him back.
As Karina and Robert grow closer, Chris's attempts to drown his sorrows lead him to a pub, and a woman called Sorcha. Chris is instantly smitten with her, so much so he spends days with Sorcha and lies to his sister about his whereabouts. When Chris comes home covered in fey kisses, Karina realizes that the Seelie Queen isn't just after Robert.
Can Karina outsmart the Seelie Queen, or is Robert doomed to forever be the Gallowglass?